I AM FREUD! Psychoanalysis Is the Only Method of Cure:
It's Too Bad No One Knows How to Do One!!!
This is a book for all time. As I had extrasensory perception to help me find out things on a primitive level and depth with an ability to pick up split-off, severe pathological projective identifications moment to moment in an era when psychologists were only permitted to be research psychoanalysts by the American Psychoanalytic Association (but tightly controlled where that research was going that in many ways nullified it as true psychoanalytic research), I present to you a book that might at that time have been considered wild psychoanalysis. And I will show you how extrasensory perception can be developed and utilized by the therapeutic use of self within the psychoanalytic frame in ways that can enhance the treatment of borderline, narcissistic, obsessive-compulsive, and schizophrenic disorders and other diagnoses, as well as help pinpoint psychophysiological awareness, which through the repetition compulsion, can prevent disease and will circumvent disease in later life. This kind of psychoanalysis will go a long way in preventing the next holocoust!
Press Release
I DARED TO DISTURB THE UNIVERSE!!!
Dr. Len Bergantino Ed. D., Ph.D., releases 'I AM Freud! Psychoanalysis Is the Only Method of Cure:  It's Too Bad No One Knows How to Do One!!!''
BEVERLY HILLS, Calif. – Dr. Len Bergantino, Ed.D., Ph.D., is the reincarnated soul of Sigmund Freud and Julius Caesar and his children Lisa Francesca is the reincarnated soul of the great British psychoanalyst Wilfred R. Bion and Cleopatra while his developmentally delayed son Alexander Leonardo is the reincarnated soul of Milton H. Erickson, M.D. (known as the father of Modern Medical Hypnosis and for Uncommon Therapy) and Decimus Brutus. All of those skill sets were necessary in the writing of  "I Am Freud! Psychoanalysis Is the Only Method of Cure: It's Too Bad No One Knows How to Do One!!!" (published by Xlibris) and the issues it is meant to deal with at both conscious and unconscious levels.
Furthur, Bergantino in 1980, made a direct contact with God to have Bion and Erickson sent back as the reincarnated souls of his children to teach him what to do with the paranormal gifts that were given to him and unleashed by Erickson. Through this development, he, with God's tutelage became the best psychoanalyst that ever lived and began to implement Freud's plan that both psychoanalysis and subsequently developed psychotherapies would create the kind of patients who would and could then go out and create an upward spiraling society.
Wilhelm Reich, M.D. – Freud's most gifted training analyst said "If you can't do politics, you can't do analysis!" The book shows how to develop extrasensory perception so that analysts and therapists have an opportunity to develop the tools necessary to do the jobs at hand if they are so inclined. In this way, people will not pay for a five day a week, seven year analysis and come out as crazy as the day they began with few if any tools to carry on the work. "When I did an analysis with the crème de la crème of society, they customarily tripled their income and the quality of their life! (Don't waste $50,000 per year or $350,000 per analysis)."
The book is not based on anything Bergantino may or may not believe. It is based on his attaining a level of "pure being" that Jean Paul Sartre wrote about as the thing-in-itself. And it is at that level that this book was written as the thing-in-itself to effect change in the reader.
"I Am Freud! Psychoanalysis Is the Only Method of Cure: It's Too Bad No One Knows How to Do One!!!"
By Dr. Len Bergantino, Ed.D., Ph.D.
Hardcover | 6 x 9in | 504 pages | ISBN 9781984557308
Softcover | 6 x 9in | 504 pages | ISBN 9781984557292
E-Book | 504 pages | ISBN 9781984557285
Available at www.amazon.com and www.barnesandnoble.com
About the Author
Dr. Len Bergantino, Ed.D., Ph.D. practiced psychoanalysis in Beverly Hills, California from 1979-1991. He saw seven patients five days a week for between five and seven years totaling 49 hours a week and saw an occasional family therapy or clinical hypnosis case totaling 52 hours a week at $125 per hour; $625 per week; $240,000 per year. In addition, he trained psychiatrists and clinical psychologists at the international level delivering on his workshop promise "The Therapheutic Wizardry of Dr. Len Bergantino" at Wentworth Castle in Sheffield, England and training the British at the Royal College of Medicine in London in "Developing the Use of Extrasensory Perception in the Practice of Psychoanalysis, Psychotherapy and Clinical Hypnosis." In Brisbane, Australia, his work was described as "a kind of mental precision" that electrified the Australian Therapeutic Community and had lasting therapeutic impact. Furthermore, he was an affiliate of the Italian American Lawyers Association for seven years. He became an expert witness in both severe parental Alienation Syndrome in criminal cases. He was the only clinician to plea bargain a man for release who was on death row. He was President of the Southern California Society of Clinical Hypnosis when they were composed of exclusively MD's, PHD's and DDS'. The year he was president he turned it into a psychoanalytic institute.
---
Reverse Analysis, the Existential Shift, Gestalt Family Therapy and the Prevention of the Next Holocaust
The purpose of this book is to tell stories that both entertain and bring value to people's lives. The order of the stories told will have no rhyme or reason other than they went through my unconscious mind when I sat down at the typewriter along with the notion they may have value and reach the unconscious minds of the readers in a way that has a better than average chance of entertaining the reader. As I am seventy-five years old when beginning this book, I have worn many hats during my lifetime, and the stories run the gamut.
---
The Art of Psychotherapy and the Liberation of the Therapist
This is a book for professional psychotherapists, psychoanalysts and counselors, students in those areas of specialty and laypersons who are interested in the essence of effective therapy and how some of the people who do it best practice their art. For professionals, the book presents a personal way of viewing therapy that can add pleasurable options. Each of the therapists with whom Bergantino worked, and himself, all had a feeling of enjoyment that they hope will carry over to the office and practices of the readers. For students of therapy, the book offers a search for a professional stature and working posture that may be of value in the development of each student's unique personal style. For laypersons, the book speaks of therapy that can make an impact and speaks of how some of the most potent therapists practice.
---
The Essence of Music
This multi-purpose book serves as a natural model for how musicians, as human beings, deal with each other. It provides a baseline for humans in answering Shakespeare's question, "To be or not to be." Furthermore, the book is substantive and full of depth, enough to be used in music schools no matter what musical genre since it focuses on musicality, pure sound, the art of musicality and peace. It can be utilized in the psychotherapeutic arts, and its content is healing in nature.
---
When Baseball was King The New York Yankees were King of Baseball
Dr. Len Bergantino's most intense love affair with baseball was between the years 1951 – 1961. Then he went to college and his attentions went elsewhere. Yet, he returned to baseball by reading baseball books on overseas flights and noticed that every time he read about baseball, it brought peace and tranquility to his life. This prompted him to pen When Baseball was King The New York Yankees were King of Baseball.
*THE MINIMUM CONDITIONS REQUIRED TO ACHIEVE THE COMPLETE DEVELOPMENT OF YOUR OWN BEING REQUIRES THAT YOU READ EACH OF THE BOOKS IN A MANNER WHERE THE WORK IS INTEGRATED AT A DEEP AND SUBSTANTIVE LEVEL. THE BASEBALL BOOK ROUNDS OUT THE CHILDHOOD FUN ASPECTS OF YOUR PERSONAL
DEVELOPMENT.
"WHEN BASEBALL WAS KING THE NEW YORK YANKEES WERE KING OF BASEBALL"
Perhaps Allie Reynolds best summed it up when the New York Yankees bought him from the Cleveland Indians and he was asked "What is the difference pitching for cleveland as opposed to The New York Yankees?" He said, "I am a Cherokee Indian from Oklahoma. In Cleveland they call me copperhead and old blanket ass! In New York they call me The Super Chief!
That's the difference " The New York Yankees won five world series in a row! (1949-1953)
This book contains the folklore of baseball in an era that not only achieved EXCELLENCE but produced a quality of athlete that became part of your family at the dinner table!
It is an era the spirit of place of which should be remembered; even those who played against the Yankees and provided a good deal of torture to Yankee fans!   For example, one of the highlights for me in writing this book was in getting to know and talk with Carl Erskine, the Brooklyn Dodger who in the third game of the 1953 world series pitched the most dominant game I ever saw pitched against what many consider to be the best baseball team in the history of baseball. He struck out 14 Yankees, and Mickey Mantle four times on that day!
---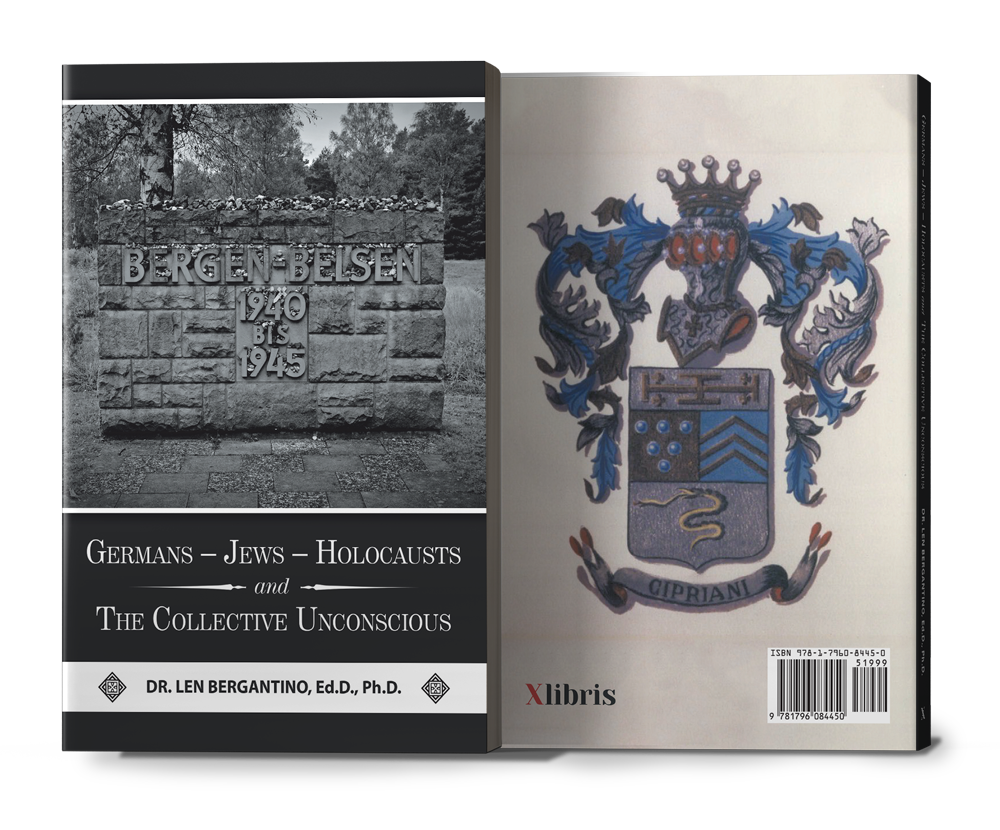 Germans – Jews – Holocausts and the Collective Unconscious
There is no available information at this time. Author will provide once available.
"GERMANS ,- JEWS – HOLOCAUSTS AND THE COLLECTIVE UNCONSCIOUS"
This book is comprised of methods and stories that are intended to evoke a one session existential shift in the reader's grasp of the entire situation in a way that supplants the word "appropriate" with the words "finer and finer discriminations of pure being" and the addition of the words "creative aggression" as an authentic working tool!
Sincerely,
Dr. Len Bergantino, Ed.D., Ph.D.
---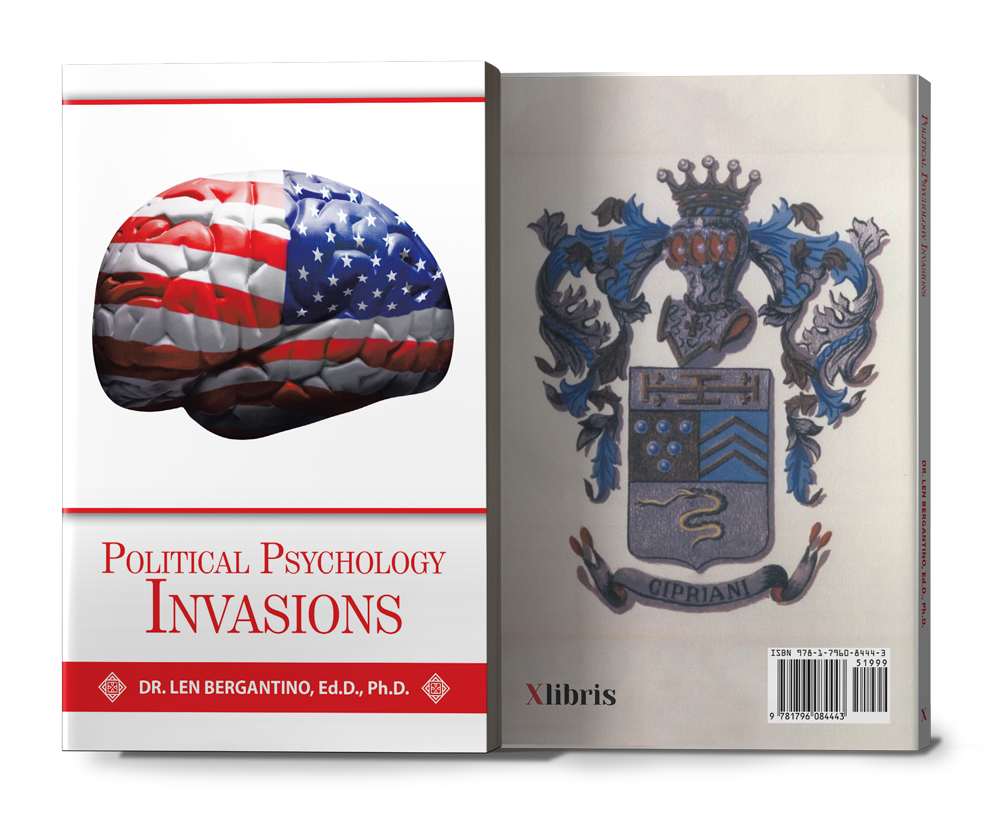 Political Psychology Invasions
Author Dr. Len Bergantino, Ed.D., writes letters that are  addressed to editors, professors and some of the known political figures such as Senator Bernie Sanders, Congresswoman Tulsi Gabbard, Senator Sheila Keuhl, Chancellor Angela Merkel of Germany, Queen Elizabeth,  President Donald Trump. He expresses his stands on some issues using psychological perspective in an honest and conversational way as possible.
Excerpt taken from the conclusion section of the book:
This book has nothing to do with the politics of the word "appropriate" and how those that read it may try to spin it. This book has everything to do with the primitive nature of man and what is actually required to educate peoples of all countries from all walks of life, no matter what caste system they knowingly or unknowingly are stuck in! Along the way to my training family therapists at the international level, Dr. Carl Whitaker, M.D., my teacher and mentor from 1979- 1994, in his last verbal communication to me said, "the work is easy! It's the justification that is hard!" So I will merely present you the facts as they occurred. I will provide no justification for any of it, other than to tell you that is what really occurred in an American system of education between 1949 and 1996 and much of it was unexpected and rather shocking to me.
"POLITICAL PSYCHOLOGY INVASIONS"
This book focuses upon the initial psycho-political assessments of the Democratic candidates who were among the sixteen original characters that threw their "hats in the ring!" so to speak! Further, it shows those interested in the current political climate and all other historical political climates HOW TO DIFFERENTIATE REAL NEWS FROM FAKE NEW THROUGH THE DEVELOPMENT AND UTILIZATION OF HIGHER SENSE PERCEPTION.
THE BOOK FURTHER INVADES SEVERAL POLITICAL AND RELIGIOUS TERRITORIES N DEMONSTRATING "HOW TO ASSESS AND DO THE RIGHT THING" AS A WAY OF LIFE, THEREBY AS CITIZENS HELPING TO CREATE AN UPWARD AS OPPOSED TO A DOWNWARD SPIRALING SOCIETY.
IN ADDITION TO ASSESSING AND MAKING DIRECT RECOMMENDATIONS TO THE POPE, AS WELL AS POLITICIANS DIRECT RECOMMENDATIONS ARE MADE SUCH AS THE DOING AWAY WITH LICENSING BOARDS IN THE FIELDS OF PSYCHOANALYSIS, CLINICAL PSYCHOLOGY, PSYCHOTHERAPY, MARITAL AND FAMILY THERAPY AND CLINICAL SOCIAL WORK SO AS NOT TO PROVIDE:
THE GENERAL PUBLIC A FALSE SENSE OF SECURITY WHILE ACTUALLY DESTROYING CLINICIANS" ABILITY TO DO THE WORK THAT CAN ONLY COME WITH THE EVER GROWING THERAPEUTIC USE OF SELF -OR AS SHAKESPEARE UT IT, "TO BE OR NOT TO BE!"
Submitted by
Dr. Len   Bergantino, Ed.D., Ph.D.
---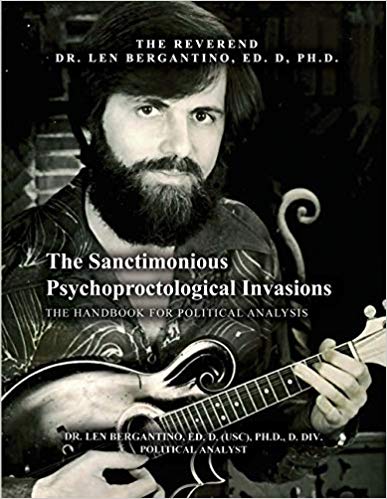 The Sanctimonious Psychoproctological Invasions: The Handbook for Political Analysis
From 2012 through 2018, Len Bergantino began each day with pro bono writings and invasive interventions that insist and expand upon the first amendment rights of United States citizens. In all areas, he is both knowledgeable and feels national, state, and local governments are stuck in socially immobile positions. He created ways to invade entire cultures and governments to move those stuck in quicksand off the dime and into a society that spirals upward. He refers to the creation of these methods as sanctimonious psychoproctological invasions in the creation of a political psychology that should be studies by all human beings who want to make a difference and give meaning to their lives.
Publisher: Dorrance Publishing Co
To Order a copy of The Sanctimonious Psychoproctological Invasions (ISBN 978-1-6461-0238-9)
Email: bookorders@rosedogbooks.com
Or call 1-800-788-7654 (Mon-Fri)  9AM-4PM
The Denial of Reverse Racism in America
Do you think that some slug who looks very professional who "whispers" an occasional interpretation to you five times a week for 7 years can make one bit of difference in your life or does such a psychotoxic slug called a psychoanalyst merely stick you in an emotional toilet bowl for seven years having the cumulative result of turning you into a hopeless bastard who will never turn the tragic corner in his or her life?
Can your analyst analyze an archaic liquid symbiotic or an osmotic transference, or can they even recognize this phenomena in order to analyze it? If the psychoanalyst cannot analyze these transferences they can't do an analysis!
I used to get "good faith" patients who had the balls to work on the cutting edge at the same time I did because they had had combinations of twenty years of two seven year analyses plus several briefer psychotheraphies, only to be as crazy as the day they walked in! (-$200,000.00)
As Dr. Donald Rinsley, M.D., fellow-American College of Psychoanalysts wrote about me, my work has both a healing effect and affect. Patients used to pay me six months in advance to hold the time open because I was irreplaceable; I was the only one who could analyze the psychotic core of the personality and I was the only who could actually do what Dr. Wilfred R. Bion, MRCS (Medical Royal College of Surgeons) wrote about analyzing the psychotic core of the personality/
As I am seventy-six years old, I have written five books that must be read and digested in their entirety. As these books are the thing-in-itself they will transform the reader into the kinds of analyst, patient and psychotherapist who can make a difference in helping people turn the tragic corner in their lives! In other words, these five books are analysis!
These books were written to be around for a few hundred years and were directly guided by the Almighty!
By: Dr. LEN BERGANTINO, Ed. D.(USC), Ph.D., A.B.P.P.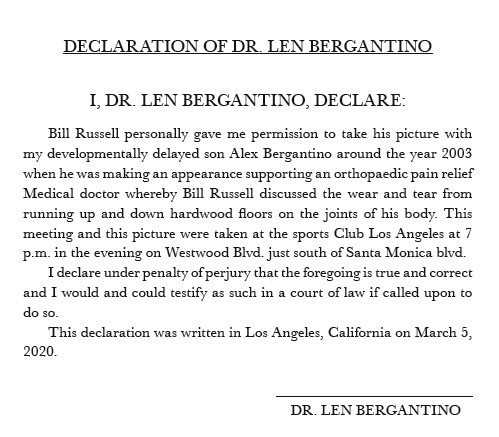 The Greatest Basketball Player I Ever Saw
PRESS RELEASE FOR "THE GREATEST BASKETBALL PLAYER I EVER SAW"
To notice greatness and not deny greatness in others you have to notice details that ordinary people often claim do not exist. As ordinary people would much rather blame the victim rather than do their own personal work of self development. They often deny greatness in others to protect themselves from looking at their own shortcomings often through "hatred and deceptive manipulation (malevolent omnipotence!) Such was the case with billy finn, who were he not surrounded by assholes would have averaged fifty two points a game instead of merely holding the state record of fifty two points in one game!
Greatness Kobe Bryant, Elgin Baylor, Larry Bird, Magic Johnson, Bill Russell, Lebron James are all great and have an element of greatness that I have never seen surpassed in my 77 years. Kobe bryant and lebron james came into the national basketball association or nba as it is called right out of high school.
***When billy finn played there was no such option! Bob cousy, famed guard told him he had nothing to teach him in the seventh grade!
***Billy finn was to basketball what willie mays was to baseball – the most exciting ballplayer that ever lived despite elements of greatness in others. For example, ted williams was the greatest hitter I ever saw. I saw him take batting practice. He hit consecutive line drives so hard they nearly bounced back to 2nd base. This book lays out the details of what made billy finn the greatest basketball player whoever lived!